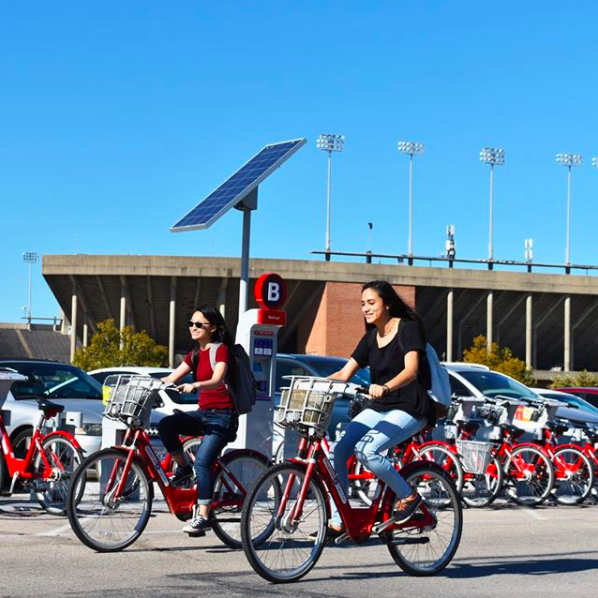 For LOCAL COLLEGEs AND UNIVERSITIES
Student and staff discounts are available for our Annual Membership option. The discount is for a $60 Annual Membership, which works out to $5 per month, paid in a one-time, annual fee.
Here's how you sign up:
Grab your school-specific promo code below.

Make sure you know your official school email address.

Click here to sign up. (If you're already a member, log in, and click "renew.")

Click "Annual Membership" and then "Have a promo code?."

Enter your school's promo code and your .edu email, hit apply, and then continue with entering your payment information.

Make sure that your billing zip code is correct–it autofills from your mailing address, and sometimes those aren't the same!
If you're already a Houston BCycle Member, make sure you switch the email address associated with your account to your school email address. Otherwise, the discount won't work!
Student/Staff Membership Promo Codes:
Baylor College of Medicine (@bcm.edu) - BCMBIKE
HCCS Student (@student.hccs.edu) - HCCSBIKE1
HCCS Staff (@hccs.edu) - HCCSBIKE2
Prairie View A&M University (@student.pvamu.edu) - PVAMUBIKE
Rice University Student (@rice.edu) - RICEBIKE1
Rice University Staff (@rice.edu) - RICEBIKE2
South Texas College of Law (@stcl.edu) - STCLBIKE
Texas A&M (@medicine.tamhsc.edu) - TAMBIKE
Texas Southern University Student (@student.tsu.edu) - TSUBIKE1
Texas Southern University Staff (@tsu.edu) - TSUBIKE2
University of Houston (@uh.edu) - UHBIKE
UH–Downtown Student (@gator.uhd.edu) - UHDBIKE1
UH–Downtown Staff (@uhd.edu) - UHDBIKE2
University of St. Thomas (@stthom.edu) - USTBIKE
UTHealth (@uth.tmc.edu) - UTHBIKE
UT MD Anderson (@mdanderson.org) - MDABIKE
Just like our Monthly and Annual Members, Student and staff members get unlimited hour-long rides throughout our entire system, on-campus and off.
If you take a ride that lasts over an hour, you will be charged $3 for every 30 minutes until you return the BCycle. To avoid overage charges, simply dock your bike before the hour is up, and check out another!